Customized Wedding Ceremonies
"Customization" means that each ceremony I officiate is unique! I love to get to know each couple in order to incorporate interesting and fun facts into the ceremony. It also means that it's all about you! Sure, there are certain elements that everyone expects in a ceremony, however there are actually no rules, so yours can be as traditional…or unique as you want it to be. But don't worry – I have loads of ideas and can help create it the way you want it, and most ceremonies I perform are in the range of 10 to 25 minutes in length.
If you would like your wedding ceremony to include verses from the Bible, the Torah, the Tao Te Ching, or any other religious or philosophical text (or a combination of sources), I am more than happy to accommodate. I also enjoy including quotes from spiritual leaders, authors or people you admire; and can memorize phrase(s) in the language of your family's heritage (to date I have incorporated Hebrew, Khmer, and Cantonese to name a few). For another unique touch, I can recite the Lord's prayer in Aramaic – the ancient language which was spoken by the Master Jesus. Listen to it
Blending religions? I am happy to tag-team with a Priest, Rabbi or other spiritual leader in order to accommodate both families' preferences, which is always well-received.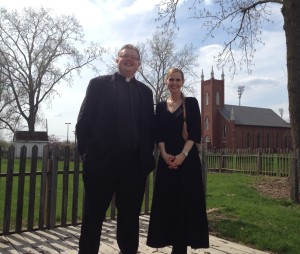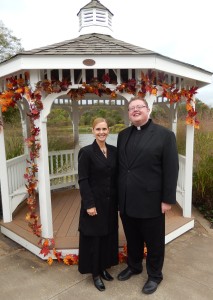 Cindy is ordained with the Universal Life Church, is licensed in the state of Ohio (U.S.) and is located in central Ohio. She is also willing to travel elsewhere for your unique wedding ceremony.
Weddings are $375. which includes a meeting (in-person if local), writing, editing, rehearsal and ceremony. A $100. deposit will reserve your date with Cindy.
Contact Cindy today to discuss your special day! View Cindy's Availability Calendar