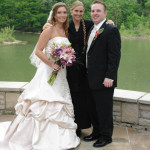 Officiant Cindy Riggs specializes in customized, on location wedding ceremonies in the Columbus and central Ohio areas. Cindy officiates wedding and commitment ceremonies that are traditional, non-traditional, non-denominational / secular and alternative / same sex. Cindy's wedding ceremonies are dynamic and personal, accommodating your beliefs, your values, and even your own vows to each other, if you choose. It's all about you!
Cindy has officiated weddings in back yards, parks, venues, chapels / churches, restaurants, golf clubs, art galleries and many more unique locations such as the Statehouse Rotunda, a rooftop, and on stage in theaters.
Cindy is a Universal Life Church minister/wedding ceremony officiant licensed with the State of Ohio. She is an advocate of religious freedom – that each person has the right to peacefully determine their own beliefs.
Whether or not your wedding ceremony includes your own spiritual beliefs, which Cindy will be pleased to accommodate, she believes you deserve one that is uniquely yours with the appropriate blend of formality, humor and sincerity.
Make your special day memorable with a ceremony created just for you!
Comments
"I was so lucky to have found you to do our ceremony. I got so many compliments on you… and I agree with everyone, you were absolutely wonderful!!!  Thanks for making our day so special!"
"Thank you for officiating our wedding! We received so many compliments on how beautiful the ceremony was. The language you crafted fit us perfectly and added such a meaningful touch to our special day. We appreciate the time you took to get to know us & translate our character into the ceremony."
"The ceremony was beautiful – everything we wanted it to be! You captured the elegance, simplicity & honesty of us. We couldn't imagine having anyone else officiate our vows. Thank you again."
"I will never forget our day, and I will never forget how great you were to us.  Thanks so much!"
"We made the right choice in picking you!"
"You were such a calming presence for us up there. Thank you."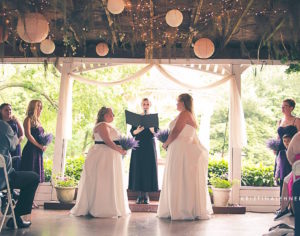 "I got a ton of compliments on how good the ceremony was, and how nice everything you said was, and my parents did too. Thank you!!"
"We both felt like we 'clicked' [with you]- that you understand 
us and our ideas."

"Thank you for being so instrumental in our happiness!"
"I don't think we could have asked for a better ceremony."
"Thanks so much for everything! You have made this so easy and fun!!
"…almost as a beautiful dream that was so good to have been true. It really was perfect."
"Thank you for being such a wonderful part of our wedding day. Several of our family members commented about how lovely you were and what a beautiful job you did officiating the ceremony. Thanks for being such a kind and calming presence for both of us… We appreciate everything and feel grateful to have found you."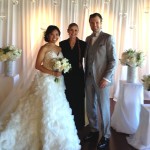 "I have seen a lot of weddings, and this one was really unique."
"I like how you blended the different belief systems."
"That was the most awesome ceremony I've ever heard! I really like what you said about unconditional love."
"That was absolutely perfect! I loved  – and agreed with – every single word you said. I'm so happy they found you." [Mother of the Bride]
"We were captivated."